this meme is hosted by the lovely jenn at a daily rhythm
it's time for a friday finds.
i have SO MUCH more books to show you since i updated my to-read shelf in Goodreads but for now, i'll only be showing three books. let us do this.
---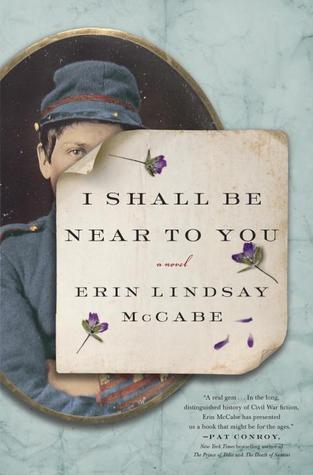 I Shall Be Near You
Erin McCabe
Standalone
Historical Fiction
Goodreads
long story short: it's the civil war and rosetta doesn't want her husband to join the military, but he does. so she dresses up as a man and goes with him.
Goodreads Summary:
An extraordinary novel about a strong-willed woman who disguises herself as a man in order to fight beside her husband in the Civil War, inspired by a real female soldier's letters home.
Rosetta doesn't want her new husband Jeremiah to enlist, but he joins up, hoping to make enough money that they'll be able to afford their own farm someday. Though she's always worked by her father's side as the son he never had, now that Rosetta is a wife she's told her place is inside with the other women. But Rosetta decides her true place is with Jeremiah, no matter what that means, and to be with him she cuts off her hair, hems an old pair of his pants, and signs up as a Union soldier.
Rosetta drills with the men, prepares herself for battle, and faces the tension as her husband comes to grips with having a fighting wife. Fearing discovery of her secret, Rosetta's strong will clashes with Jeremiah's as their marriage is tested by war. Inspired by over two hundred and fifty documented accounts of the women who fought in the Civil War while disguised as men, I Shall Be Near To You is the intimate story, in Rosetta's powerful and gorgeous voice, of the drama of marriage, one woman's amazing exploits, and the tender love story that can unfold when two partners face life's challenges side by side.
---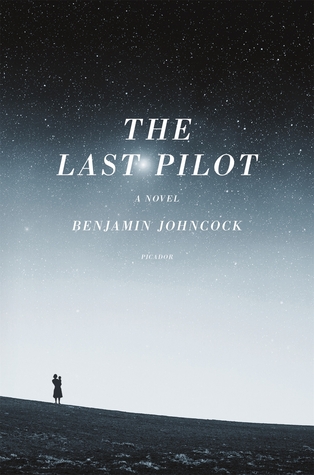 The Last Pilot
Benjamin Johncock
Standalone
Historical Fiction, Space
Goodreads
long story short: SPACE
Goodreads Summary:
"Harrison sat very still. On the screen was the surface of the moon."
Jim Harrison is a test pilot in the United States Air Force, one of the exalted few. He spends his days cheating death in the skies above the Mojave Desert and his nights at his friend Pancho's bar, often with his wife, Grace. She and Harrison are secretly desperate for a child-and when, against all odds, Grace learns that she is pregnant, the two are overcome with joy.
While America becomes swept up in the fervor of the Space Race, Harrison turns his attention home, passing up the chance to become an astronaut to welcome his daughter, Florence, into the world. Together, he and Grace confront the thrills and challenges of raising a child head-on. Fatherhood is different than flying planes-less controlled, more anxious-however the pleasures of watching Florence grow are incomparable. But when his family is faced with a sudden and inexplicable tragedy, Harrison's instincts as a father and a pilot are put to test. As a pilot, he feels compelled to lead them through it-and as a father, he fears that he has fallen short.
The aftermath will haunt the Harrisons and strain their marriage as Jim struggles under the weight of his decisions. Beginning when the dust of the Second World War has only just begun to settle and rushing onward into the Sixties, Benjamin Johncock traces the path of this young couple as they are uprooted by events much larger than themselves. The turns the Harrisons take together are at once astonishing and recognizable; their journey, both frightening and full of hope. Set against the backdrop of one of the most emotionally charged periods in American history, The Last Pilot is a mesmerizing debut novel of loss and finding courage in the face of it from an extraordinary new talent. 
anywayi'm a huge space person, if that's what we're called. i love space, the solar system, exoplanets, BASICALLY ASTRONOMY. i'm so fascinated by planets and stars and dark matter and whatever. Interstellar is one of my favourite movies, i hope this becomes one of my favourite books.
---
Lost in Translation: An Illustrated Compendium of Untranslatable Words from Around the World
Ella Sanders
Standalone
Nonfiction
Goodreads
long story short: a bunch of words from other languages that don't have a counterpart in the English language.
Goodreads Summary:
An artistic collection of more than 50 drawings featuring unique, funny, and poignant foreign words that have no direct translation into English. 
Did you know that the Japanese language has a word to express the way sunlight filters through the leaves of trees? Or that there's a Finnish word for the distance a reindeer can travel before needing to rest?

Lost in Translation brings to life more than fifty words that don't have direct English translations with charming illustrations of their tender, poignant, and humorous definitions. Often these words provide insight into the cultures they come from, such as the Brazilian Portuguese word for running your fingers through a lover's hair, the Italian word for being moved to tears by a story, or the Swedish word for a third cup of coffee.
In this clever and beautifully rendered exploration of the subtleties of communication, you'll find new ways to express yourself while getting lost in the artistry of imperfect translation.
i'm a Filipino which means i'm bilingual. there are tons of words in our language that can't be translated in English. gigil, kilig and more. fellow filipinos, u know what im talking 'bout.
---
 anyway, i hope you enjoyed my posts! be sure to check out these books too! thank you for reading and um, bye!

goodreads // bloglovin // tumblr