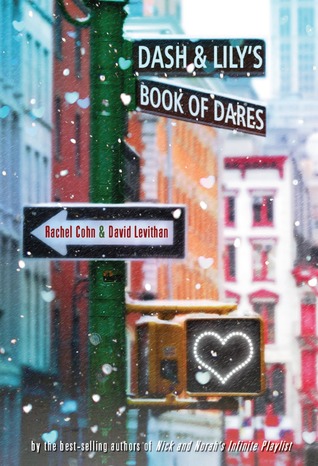 Dash & Lily's Book of Dares
Rachel Cohn and David Levithan
Standalone
★★★★  (3.82)
Goodreads
(old review)

YA contemporaries don't appeal to me anymore after i've read that dreadful book called "this is what happy looks like". *shudders* i've been scarred for life, honestly.
but DANG this book was better than i excepted.
pretty much most of the YA contemporaries i've read (which is not a lot. *shudders* "this is what happy looks like" was the LAST STRAW) falls into two categories: The Cliché and The Not-So-Cliché. im very proud to say that this book falls in the latter category.
The Not So Cliché Plot
a lot of YA contemporaries plots' do not appeal to me for some odd reason (BECAUSE I FEEL LIKE THEY'RE ALL LIKE THIS IS WHAT HAPPY LOOKS LIKE) and so i thought that this won't appeal to me too. but when my sister – a hater of YA and everything in it – said this book was actually "good", i was sold. and it was. the plot centers about a very bored girl who makes – can you guess what? – a book of dares. and this guy picks them up and does it. it kind of adds a bit of mystery to the book, so it basically isn't just about two teenagers falling in love.
The Not So Cliché Romance
i think a lot of YA contemporaries have these flow of events:
guy >> girl >> they meet >> they flirt >> they FALL IN LOVE IMMEDIATELY >> they have a relationship >> they have problems in their relationship >> those problems are fixed OR are faced with hope, love, and fairy dust. >> the end.
but in this book, it's not like that! (thank goodness) it's short and it focuses on how Dash and Lily fall in love and meet. their meeting takes time which is good since so many YA characters are ready to throw themselves at each other after 5 days.
and now, the Not So Cliché category is divided into little categories called The Okay and The Not Okay
The Okay
Dash. i just wish teenage guys were more like this, you know? it's a relief to know that there are still guys in YA who are not completely intense, totally hot and DULL. so much main character guys in YA have no sense of humor! they're all so intense and apparently have deep thoughts about the universe. plus, he loves books and words. i love him.
The Not Okay
Lily. i like her … enough. she was great at the beginning and absolutely messed up her character when she met the Edgar guy. she was funny and awesome until she decided that she wants to kiss this guy who made her school life a living hell. dude, wtf?
Complete Strangers. look, i get it adds adventure and spice to your world but playing games with a stranger? N O. lily, you best be happy that your play buddy isn't a creepy old man. yes, put some adventure in your life but not that kind of adventure. goodness.
conclusion: this book was not like that other one that tells you what happy looks like.
goodreads // bloglovin // tumblr