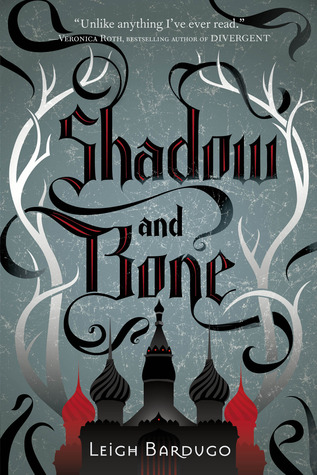 Shadow and Bone
Leigh Bardugo
1/3 of Grisha
★★ (1.60)
Goodreads
one word, seven letters, describes the whole book: typical.
let me tell you what this book is about: girl is orphan. girl is ordinary. just kidding, girl actually have powers. girl has power in which no one has. girl is chosen one. there is love triangle. one guy is blond and likes to bang girls in his spare time. one guy is serious and hot and leader of the powerful people called grisha. she has crush at blond guy but blond guy no like her. then girl becomes pretty and has curves, blond guy like her! but omg! hot leader likes her too! omg!! love triangle! also: they're all white!
that is the plot of 736261613 ya books i have read and to be frank with you, i'm sick of it. 
i'm sick of these stupid protagonists and these hot and dull love interests. i'm sick of the lack of world building. i'm sick of the boring writing style. 
i could stop writing and stop my review here, but i won't. let me tear the book apart for you.
who's who
alina. she has dark hair. she has *this* bit of a personality. the two hot guys want her. basically, your ordinary ya female protagonist. good thing she isn't blond!
the boy was short and stocky, shy but always smiling. the girl was different and she knew it.
oh no, watch out!!! she's DIFFERENT!! WHO WOULD HAVE KNOWN????
mal. 
i'd been nervous about meeting new people. but a lot of girls had been excited to befriend me, and Ruby had been the most eager. those friendships lasted as long as it took me to figure out that their only interest in me lay in my proximity to Mal. 
a girl leaned out of the window. she had curling black hair and wore a hat of a silver fox. she scanned the watching crowd and predictably, her eyes lingered on Mal. 
as i opened the door, i heard a giggle, and a female voice called from somewhere in the dark room, "if it's that tracker [Mal], tell him to come inside and keep me warm." 
what? another ya love interest with girls drooling after him???OHMYGOSH! SO MUCH ORIGINALITY!
let me guess … with so much girls chasing him, he's in love with …. hmmm? who could it be? the ya female protagonist or the ya female protagonist? so many choices!
darkling.
he's hot. he's a leader. he's super serious and has gray eyes. he has abs. totally swoon worthy! NOT.
personally, i think he's creepy just meeting him. i mean, look at me right in the eye and say this isn't creepy:
"yes," i said.
"is he any good?"
"what?" i was finding it hard to concentrate. the darkling's thumb was still moving back and forth, tracing the length of the scar on my palm. 
he reached out and tapped my collarbone – even that brief contact was enough to send a jolt of surety through me.  
she just met the guy and he's touching her randomly. if you're a human and thinks, you would not let him do that. you would ignore him, avoid him because that is creepy as hell. and she's turned on. wtf
the world
can you believe that this was inspired by Russian culture? can you believe bc of that, i was excited to read this book?
i will honestly tell you that i have more cats than how much world building there is in this book.
i mean, this is such a great concept! RUSSIA. it's RUSSIA. how the hell can't that be cool? yet it wasn't.
i'm sure if the author focused more on the beautiful world instead of throwing some random Russian words or something and calling it world building, or putting one or two paragraphs about it, this book might have been great. if we actually explored and experienced the world more thoroughly, i maybe would have liked this book.
tough luck, i guess.
if you have any plan reading this, no. just don't. don't even think about it. don't even touch this with a ten feet pole. you'll learn nothing important that hasn't already been portrayed and showed in a better way.
goodreads // bloglovin // tumblr