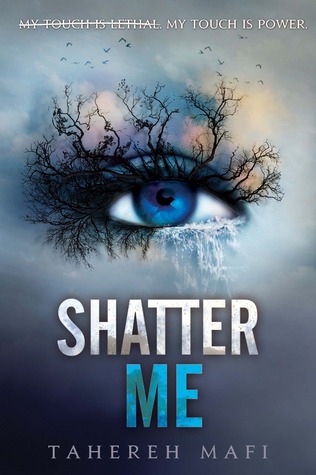 Shatter Me
Taherah Mafi
1/3 of Shatter Me
★ (1.00)
Goodreads
WARNING: OVERLY METAPHORICAL WRITING STYLE AHED
WARNING: THE WORST HEROINE IN THE HISTORY OF WORST HEROINES
WARNING: TWO CRAPPY LOVE INTERESTS AHEAD
WARNING: VERY LUSTY – Y ROMANCE AHEAD
DO YOU STILL WANT TO ENGAGE SUBJECT? √ OR X
EVERYONE! DO NOT ENGAGE! I'VE MADE A TERRIBLE MISTAKE! DO NOT ENGAGE!
Overly Metaphorical Writing Style


 "Juliette" his voice hugs the letters in my name so softly i die 5 times in that second.
 "because i can" he almost cracks a smile and i almost sprout a pair of wings.
 he says it with a small smile the size of Jupiter
it takes 5 years to walk to the elevator
his eyebrows could touch the sky
every organ in my body falls to the ground
there are 400 cotton balls caught in my windpipe 
there is a fine line between emotional and overemotionalitdoesntevenmakesenseanymore writing styles. this is the latter.
THIS IS WHY YOU SHOULD NOT ENGAGE. DO YOU WANT TO MAKE YOUR CREATIV WRITING TEACHERS CRY?
IT WILL TORTURE YOU SO MUCH THAT THE MOON WILL BE LIKE THE SUN GLOWING WITH THE STARS OF HIS EYES IN WHICH SHE HAS BEEN DREAMING FOR A MILLENIA.
you don't get it? EXACTLY.
The Worst Heroine In The History Of Worst Heroines
i've met ms. juliette before and … *shudders* she's horrible.
actually, on second thought, she isn't!
i thought she would be so scary, you know? a girl who can kill people when she touches them and actually USES IT?
but when i met, her, PHEW! i thought i was a goner! but i wasn't! because when i saw her, she was locked up in an asylum, writing in her notebook and dramatically looks at the window or is making out with this guy who she technically met for just a few days.
but for real? i would rather you DO NOT ENGAGE. because i'm pretty sure some of you would want to grab a flower vase and slam it on her head. violence is not the answer, everyone.
Two Crappy Love Interests
there are two guys in this book, both have no sense of humor, both are attracted to the worst heroine ever, and both sleep without a shirt on.
Very Lust – y Romance
i think everyone should know that THROWING YOURSELF AT A PERSON YOU'VE MET FOR ABOUT A WEEK AND CALLING IT "love" IS NOT THE BEST THING TO DO. (it DOES NOT matter even if you met them when you were third grade)
if i have ever done something wrong to you, please forgive me. but if you engage and read this book, please forgive yourself.
DO NOT ENGAGE
goodreads // bloglovin // tumblr