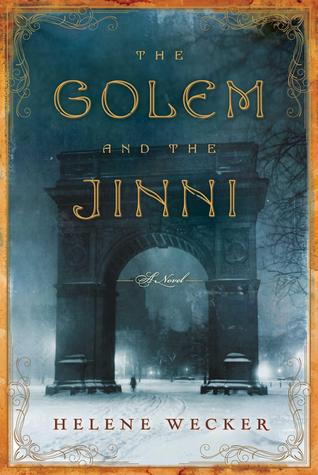 The Golem and the Jinni
Helene Wecker
Standalone
★★★★★ (5.00)
Goodreads
can i just say i love this book?
i love this book.
thank you for reading my lengthy review and good –
no, but seriously. i love this book. why?
The Characters:
there are characters who are idiots, there are characters who are bastards, there are characters who you just want to throw a brick at and there are characters who actually aren't characters, but instead people.
chava is so chava. jinni is so jinni. they are themselves. they are consistent. they are the Golem and the Jinni.
you could speak the dialogue of chava out loud without telling me it's chava and i would KNOW it's her. you could do the same with jinni. and with that girl in the tribe. and with that ice cream guy. and even that evil dude who is actually pretty smart – and fine, yes i did forget their names because it's just so complicated – but the thing is, they are themselves.
The World
i know jinni's. i know golems. being a fantasy reader, i already read a book about both of those creatures. but this take on them is by far my favorite.
there's just something so beautiful with their world. it's woven effortlessly with the real world so much that i actually kept my thoughts in check for there might be golems roaming around. 
The Perspective
more than three perspectives and i'm not even slightly annoyed. 
usually, this doesn't happen. i get irritated how i'm being tossed into one person's head to the other. but this one is an exception.
all in all, of course i favor chava and jinni's POV way much than the others, but they still interest me. i'm fine being in the ice cream guy's or shcaalman's (?? i give up on their names) heads and seeing what they're seeing and i am not at all confused whose POV i am in.
The Story
two timelines.
the first shows how all of this happened. the second shows what is happening. when both are combined, this story is born and it makes this particular girl named odelia (heard she spends all her time making reviews in and reading books what even right?) very happy.
and when the two timelines meet and everything makes sense, it blows minds. 
conclusion: just read it
goodreads // bloglovin // tumblr