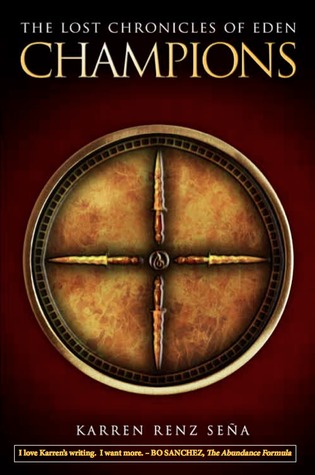 Champions
Karren Seña
1/?
★★★★ (3.78)
Goodreads
one word: short.
that's it. that's the only major problem i had with this book.
not the world
it is hard to grasp it at first, since too much information is thrown at you at the beginning. but afterwards, i was fascinated.
city closest to heaven? angels and demons fighting? seven champions of eden?
i've never encountered one of these books before. usually, fantasies immediately dismiss the idea of God. being a catholic, it doesn't upset me because, well, it's fiction. but this book is one of a kind. it has elements from the Bible; angels, city of Eden, and the idea of the one above isn't completely disregarded.
i can't tell you how beautiful the world is! in fact, i'm actually extremely jealous. how could anyone think of that in their head?
but i would love a chance to experience it more but, you know, the book is too short.
not the characters
they are a bunch of unlike people. they are not the same, which means most of them do not go along together.
and they're not just different from one another, they're different from other young adult characters. so many YA characters are intense and never have a sense of humor. (i don't even know how the main characters fall in love with them) but here, probably most of them know how to joke and it fills me with unending joy. funny characters are my favorite characters which meant each of the seven are in my heart. (but most especially mateo and gabriel. <3)
but i just wished i got to know them better. each and everyone of them. their backstories, their families whatever.
i would love that but … this book is too short.
not the setting:
rarely is a YA book set in asia, much less my country – The Philippines. it's all about america or the UK. so it was great to finally understand and know where the characters are.
it's so original! yet, i would be more pleased if the book wasn't too short.
it all comes down to this: THIS BOOK IS TOO SHORT. it's like a comic book! i know a graphic novel – novels – longer than this book!
it didn't have much character development neither much world building. yes, be concise but not to the point wherein probable good parts were cut off.
conclusion: you know it already.
goodreads // bloglovin // tumblr