this meme is hosted by the lovely jenn at a daily rhythm
haven't done memes in a while.
nice to see you, meme! d'you miss me? probably not – moving on,
i guess you know (or maybe don't) about my love for fantasy. i read fantasy books, i watch fantasy tv shows and movies. i was reading a contemporary book and actually hoped that there will be a little fantasy bit at the end. (i was disappointed)
so here's even more fantasy books that i've added on my tbr!
---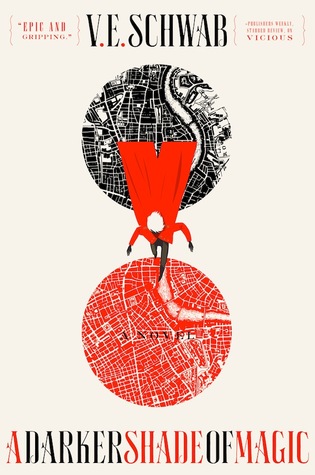 A Darker Shade of Magic
V.E. Schwab
1/3 ADSOM
YA Fantasy Historical Fiction
Goodreads
Kell is one of the last Travelers—rare magicians who choose a parallel universe to visit.
Grey London is dirty, boring, lacks magic, ruled by mad King George. Red London is where life and magic are revered, and the Maresh Dynasty presides over a flourishing empire. White London is ruled by whoever has murdered their way to the throne. People fight to control magic, and the magic fights back, draining the city to its very bones. Once there was Black London – but no one speaks of that now.
Officially, Kell is the Red Traveler, personal ambassador and adopted Prince of Red London, carrying the monthly correspondences between royals of each London. Unofficially, Kell smuggles for those willing to pay for even a glimpse of a world they'll never see. This dangerous hobby sets him up for accidental treason. Fleeing into Grey London, Kell runs afoul of Delilah Bard, a cut-purse with lofty aspirations. She robs him, saves him from a dangerous enemy, then forces him to another world for her 'proper adventure'.
i'm admitting it. i constantly look at v's twitter. 
for some reason, reading her tweets make me so motivated! she is a master in productivity, hands down. it makes me feel absolutely ashamed of scrolling through the internet and watching YouTube videos all day. 
and being in her twitter and all, i see things about her book. and frankly, i'm so excited. the fantasy monster is READY for some schwab. 
---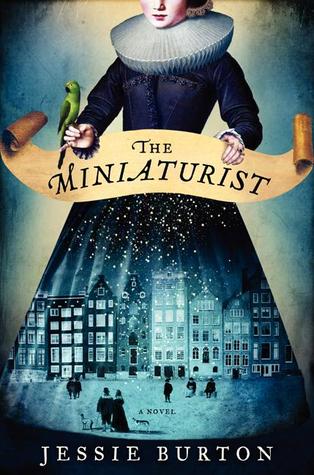 The Miniaturist
Jessie Burton
Standalone
Adult Magical Realism Historical Fiction
Goodreads
Set in seventeenth century Amsterdam-a city ruled by glittering wealth and oppressive religion-a masterful debut steeped in atmosphere and shimmering with mystery, in the tradition of Emma Donoghue, Sarah Waters, and Sarah Dunant.
"There is nothing hidden that will not be revealed…"
On a brisk autumn day in 1686, eighteen-year-old Nella Oortman arrives in Amsterdam to begin a new life as the wife of illustrious merchant trader Johannes Brandt. But her new home, while splendorous, is not welcoming. Johannes is kind yet distant, always locked in his study or at his warehouse office-leaving Nella alone with his sister, the sharp-tongued and forbidding Marin.
But Nella's world changes when Johannes presents her with an extraordinary wedding gift: a cabinet-sized replica of their home. To furnish her gift, Nella engages the services of a miniaturist-an elusive and enigmatic artist whose tiny creations mirror their real-life counterparts in eerie and unexpected ways . . .
Johannes' gift helps Nella to pierce the closed world of the Brandt household. But as she uncovers its unusual secrets, she begins to understand-and fear-the escalating dangers that await them all. In this repressively pious society where gold is worshipped second only to God, to be different is a threat to the moral fabric of society, and not even a man as rich as Johannes is safe. Only one person seems to see the fate that awaits them. Is the miniaturist the key to their salvation . . . or the architect of their destruction?
okay, first of, who IN THEIR RIGHT MINDS, would not be attracted to that cover? 
if you've seen my march wrap up (not sure if i've already posted it or not … ok this is awkward) but i had a hangover of The Golem and the Jinni. i want to start reading more Adult and preferably, FANTASY ADULT PLEASE. 
---
A Stranger in Olondria
Sofia Samatar
Standalone
Fantasy
Goodreads
Jevick, the pepper merchant's son, has been raised on stories of Olondria, a distant land where books are as common as they are rare in his home. When his father dies and Jevick takes his place on the yearly selling trip to Olondria, Jevick's life is as close to perfect as he can imagine. But just as he revels in Olondria's Rabelaisian Feast of Birds, he is pulled drastically off course and becomes haunted by the ghost of an illiterate young girl.
In desperation, Jevick seeks the aid of Olondrian priests and quickly becomes a pawn in the struggle between the empire's two most powerful cults. Yet even as the country shimmers on the cusp of war, he must face his ghost and learn her story before he has any chance of becoming free by setting her free: an ordeal that challenges his understanding of art and life, home and exile, and the limits of that seductive necromancy, reading.
A Stranger in Olondria is a skillful and immersive debut fantasy novel that pulls the reader in deeper and deeper with twists and turns reminiscent of George R. R. Martin and Joe Hill.
"haunted by the ghost of an illiterate young girl" 
(but also pretty scared but it's not horror so PHEW)
---
those are my friday finds!
thank you for reading and um – bye!
goodreads // bloglovin // tumblr