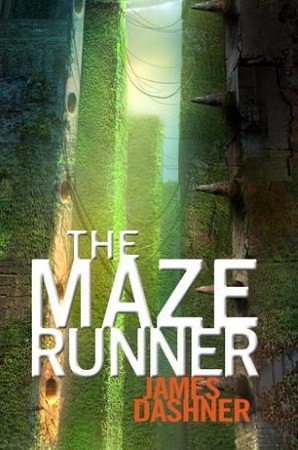 The Maze Runner by James Dashner
1/3 The Maze Runner
YA Dystopia
★★★ (2. 58)
Goodreads
(from my rating system: ranting side is switched to intense. trying to be less harsh but it's hard.)
Hmm. Before, I genuinely did like this! Except for some flaws, I didn't understand why people hated this book. Then I read other people's reviews. My eyes were opened. Why? 1.) WTF characters. Thomas, our main character is a robot. He had no character development. He was just … there. Aside from being smart – where did that come from – he had no personality. He wasn't funny, harsh, kind, self-less. He could've been obnoxiously arrogant and I would've liked him better (okay maybe not) instead of being this machine where answers suddenly popped out of nowhere. Also, let me add that his decisions confused me:
Chuck shrugged. "Nothin' I say'll do you any good," he said. "I'm basically still a Newbie, too. But I can be your friend –"
"I don't need friends." Thomas interrupted.
Okay then. *some pages later*
Thomas hated these people. He hated all of them. Except Chuck. "Get me away from these guys." Thomas said. He realized that Chuck might actually be his only friend in the world.
Oh wait. There's more.
Thomas loved asking questions. He is basically a robot who kept on asking questions. I would understand – if your memory was wiped out and suddenly you're trapped in a maze with a bunch of other kids, you most probably have a lot of questions.
Thomas had more questions. Lots more. Chuck and everyone else around the glade never wanted to give him answers to anything. And here was Zart who seemed perfectly willing. But suddenly Thomas didn't feel like talking anymore.
2.) What kind of romance is that?! Here's another episode of Insta-Love, with special guests Thomas and Teresa!
I mean, seriously. After seeing Teresa, Thomas constantly thought about her. The girl in the box here, the girl in the box there. Why.
Thomas hadn't thought about it. His mind had been occupied with … now Teresa.
For some reason, the girl had popped into his head again, out of the blue …
Thoughts of the girl crashed around his mind.
And the worst:
The staff put Teresa up in a separate room, shuffling her away before she could even say goodbye. Thomas missed her desperately three seconds after she was gone.
Why.
Yeah, yeah. I know that <SPOILER> Tommy and Teresa had a relationship before the maze, but hey. We didn't get to see it. We didn't get to have character development.</SPOILER> Because of that, I disliked their relationship immediately.
3.) The most why-did-I-even-read-this moment: <SPOILER>Telepathy.Please tell me where did that come from. Maybe it would be more elaborated in the next books, but I'm not in the other books. I'm in the first book. And that doesn't mean you shouldn't tell the readers why there's effing telepathy between the most infuriating characters.</SPOILER>
Over-all, I'm interested in the world. But the characters? Gosh, no.
goodreads // bloglovin // tumblr