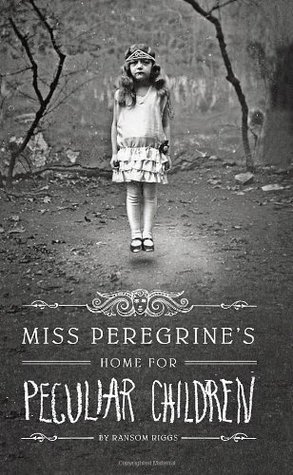 Miss Peregrine's Home for Peculiar Children
by Ransom Riggs
1/3 of Miss Peregrine's Home for Peculiar Children
YA Fantasy
★★★★ [4.33]
Goodreads
(from my rating system: usually the books i wished i liked more. it had some events/ characters that really irritated me.)
This is not horror.
I repeat: This is not horror. Get it?
Just so everyone knows: This. Is. Not. Horror. It's not scary. Fine, the pictures are creepy but aside from that, it's just a well-written fantasy novel.
Actually, no. It's not just a well-written fantasy novel. It's an extremely well written fantasy novel that has epic (and real) pictures. Have you even seen the pictures?! They are creepy yet so … mysterious. It makes you wonder what is the real story behind them.
Okay, let's talk about the romance. Almost every YA book I've read has romance, why would this be an exception? It isn't. Thereis romance in this book, but quite … disturbing. Obviously his love interest would be Emma. But consider this: <SPOILER>[Emma was Jacob's grandfather's lover. So… Jacob would be technically dating his grandfather's ex. Okay then. But is Emma actually in love with Jacob for being himself or for being her old lover's grandchild?]</SPOILER> Also, instalove, why must you appear everywhere?
Anyway,
Miss Peregrines's Home for Peculiar Children? More like "Mister Riggs made my self-esteem fly out the window by his writing."
"Stars, too, were time travelers. How many of those ancient points of light were the last echoes of suns now dead? How many had been born but their light not yet come this far? If all the suns but ours collapsed tonight, how many lifetimes would it take us to realize we were alone? I had always known the sky was full of mysteries—but not until now had I realized how full of them the earth was."
I was also terribly confused with the loop parts. I needed to reread the paragraph again and again but I still didn't get the full grasp of it. I only started understanding it fully, maybe, halfway through the book.
This might sound like a negative review, but hey. Look at my rating. That is high. I think what won me over was the characters. I love how Enoch irritated everyone, how Olive was such a cutie and how Bronwyn was the epitome of sweetness.
Over-all, I enjoyed this. I don't think my time was wasted whatsoever.
goodreads // bloglovin // tumblr