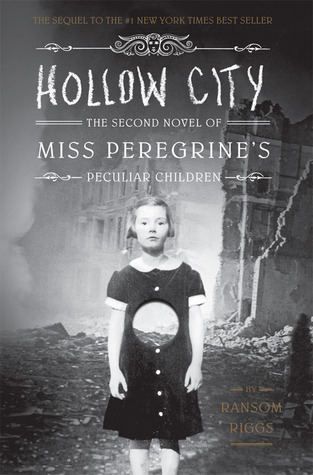 Hollow City
by Ransom Riggs
2/3 Miss Peregrines Home For Peculiar Children
YA Fantasy
★★★★★ (4.50)
Goodreads
(from my rating system: i loved it. honestly. it's just that there are some confusing stuff. but hey, i still adored it.)
"But you can't feel bad every second, I wanted to tell her. Laughing doesn't make bad things worse any more than crying makes them better. It doesn't mean you don't care, or that you've forgotten. It just means you're human."
 Let me just say there was a lot of action.
No, really. There was a lot of action.
If you were looking for a book that's relaxing, don't read this one. Unless your definition of "relaxing" is too much vivid edge-of-your-seat action scenes, then go ahead and read this.
Every time something would happen, you would think that the next scene would be a peaceful moment of talking. You'd thing there would be (lame) romance hours or joke times. 
Don't worry, I thought that too. 
But after a while, it can get annoying.
And exhausting.
Okay, enough gifs. But goodness, I couldn't help but feel so mad! Let me quote Ophelle's review:
If I had to write a book that mimicked my PMS, then this would be it. Every chapter was an exhausting read. Try riding a roller coaster just after you rode one, fast-paced—that's how it felt like.
But it was still amazing. The romance may be lame but the characters, the characters made up for it!
I loved each and every character. They were very different, not just in their peculiar-ess but in their personalities. But put them together, they would make the best team ever.
And let's not forget the writing, shall we? The action episodes were exhausting because the writing described it so well! It was rich in details, making me feel like I was in a cinema, the colors and sounds enhanced.
An abundance of action scenes, lame romance but great characters, world and writing. Yep. That's this book.
goodreads // bloglovin // tumblr