Yeah, I don't know.
Before you ask, yes, I did run out of ideas. My blog was getting to full of memes lately. Solution?
List some books. Let's get started.
WHAT DO YOU MEAN MIND BLOWING PLOTS?
I mean those plots that you wished you thought of. Or plots that make you extremely jealous of an author's mind. Or plots that make you feel inferior with their creativity. Like that. 
---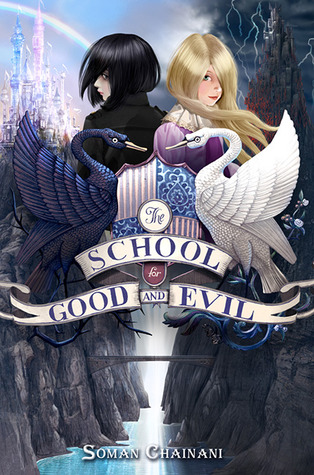 School for Good and Evil
by Soman Chainani
7/10 MIND BLOWING-NESS

Goodreads Summary
This year, best friends Sophie and Agatha are about to discover where all the lost children go: the fabled School for Good & Evil, where ordinary boys and girls are trained to be fairy tale heroes and villains. As the most beautiful girl in Gavaldon, Sophie has dreamed of being kidnapped into an enchanted world her whole life. With her pink dresses, glass slippers, and devotion to good deeds, she knows she'll earn top marks at the School for Good and graduate a storybook princess. Meanwhile Agatha, with her shapeless black frocks, wicked pet cat, and dislike of nearly everyone, seems a natural fit for the School for Evil.
But when the two girls are swept into the Endless Woods, they find their fortunes reversed—Sophie's dumped in the School for Evil to take Uglification, Death Curses, and Henchmen Training, while Agatha finds herself in the School For Good, thrust amongst handsome princes and fair maidens for classes in Princess Etiquette and Animal Communication.. But what if the mistake is actually the first clue to discovering who Sophie and Agatha really are…?
Odelia's Summary
2 girls. One Nico di Angelo perfect for Evil and one Bianca di Angelo perfect for Good. But then they get interchanged. Nico goes to the School of Pink Dresses and Bianca goes to the School of Teaching Kids How to Kill People.
But seriously. This book is good.
---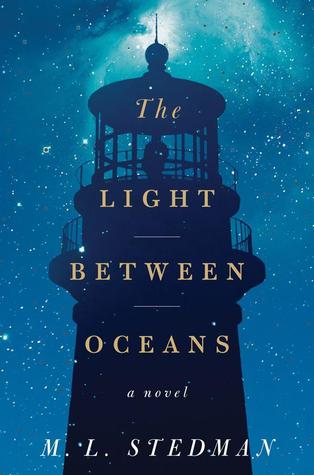 The Light Between Oceans
by M.L. Stedman
6/10 MIND BLOWING-NESS
Goodreads Summary
After four harrowing years on the Western Front, Tom Sherbourne returns to Australia and takes a job as the lighthouse keeper on Janus Rock, nearly half a day's journey from the coast. To this isolated island, where the supply boat comes once a season and shore leaves are granted every other year at best, Tom brings a young, bold, and loving wife, Isabel. Years later, after two miscarriages and one stillbirth, the grieving Isabel hears a baby's cries on the wind. A boat has washed up onshore carrying a dead man and a living baby.
Odelia's Summary
This couple try to have a baby multiple times. But after so many failed attempts, they stop. Then a baby washes up on the beach. Will they keep it? 
It's beautiful. Read it. I cried. More reasons for you to read it.
---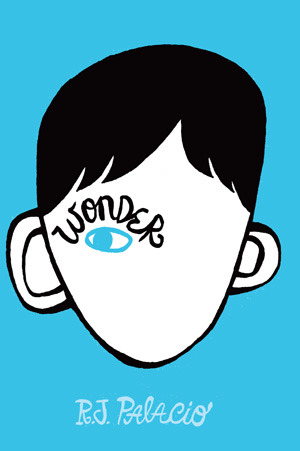 Wonder
by R.J. Palacio
7/10 MIND BLOWING-NESS
Goodreads Summary
August (Auggie) Pullman was born with a facial deformity that prevented him from going to a mainstream school—until now. He's about to start 5th grade at Beecher Prep, and if you've ever been the new kid then you know how hard that can be. The thing is Auggie's just an ordinary kid, with an extraordinary face. But can he convince his new classmates that he's just like them, despite appearances?
Odelia's Summary
A kid names Auggie was born with a facial deformity. Then he goes to school.
Fudge guys, this book is also good.
---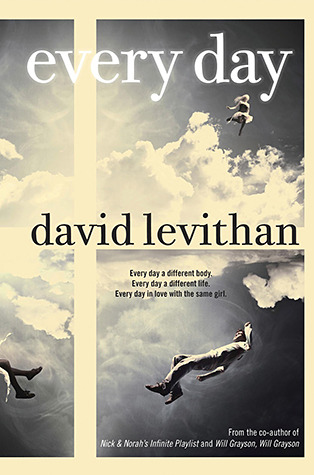 Everyday
David Levithan
9.3/10 MIND BLOWING-NESS

Goodreads Summary
There's never any warning about where it will be or who it will be. A has made peace with that, even established guidelines by which to live: Never get too attached. Avoid being noticed. Do not interfere.
It's all fine until the morning that A wakes up in the body of Justin and meets Justin's girlfriend, Rhiannon. From that moment, the rules by which A has been living no longer apply. Because finally A has found someone he wants to be with—day in, day out, day after day
Odelia's Summary
A guy named "A" wakes up in a different body EVERYDAY. Enough said.
---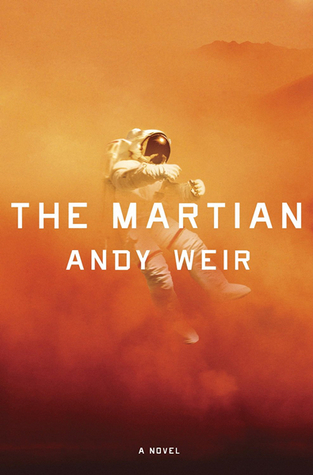 The Martian
by Andy Weir
10/10 MIND BLOWING-NESS WOAH WOAH WOAH
Goodreads Summary
Six days ago, astronaut Mark Watney became one of the first men to walk on the surface of Mars. Now, he's sure he'll be the first man to die there.
It started with the dust storm that holed his suit and nearly killed him, and that forced his crew to leave him behind, sure he was already dead. Now he's stranded millions of miles from the nearest human being, with no way to even signal Earth that he's alive–and even if he could get word out, his food would be gone years before a rescue mission could arrive. Chances are, though, he won't have time to starve to death. The damaged machinery, unforgiving environment, or plain-old "human error" are much more likely to get him first.
Odelia's Summary
A guy is stuck in Mars. Ta-freaking-da.
I haven't read this BUT I BADLY WANT TO.
---
This was fun! Anyway, those are the books that blew my mind.
Thanks for watching and um, bye!