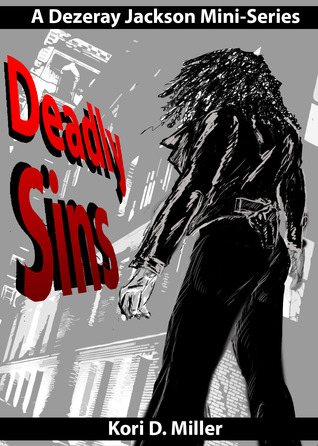 Deadly Sins
by Kori Miller
Mini Series
Adult Crime
★★★ 3.24
Goodreads
(from my rating system: the events/characters/writing just bothered me. ranting side might be on. but still liked it enough.) 
This book was given to me by the author in exchange for a honest review.
I don't read a lot of flash fiction. Actually, let me rephrase that: I haven't read a flash fiction book before. And I'm glad that this is my first.
I went into this book knowing that its mystery and crime. That's it. But as I read the first 3 pages or so, I was immediately intrigued.
I wished this wasn't flash fiction because I am genuinely curious about Dez and her history. I mean, I love Dez. By page 19, I was already taking note on how much she makes me laugh.
Why 3 stars? Well, I wished that this book would be lengthened into a novel, and if that's not possible, a novella. I was engrossed in every scene (especially the last one) and when it ended – usually abruptly – I would be disappointed and longed for more.
I really liked this book. The writing was – I can't place any other word – intriguing. It basically beckoned me to keep reading (and so I did). I can't really talk about the characters because Dez is the only one with character development and I already explained how much I like her.
Over all, I enjoyed this book. But I just wished for more.