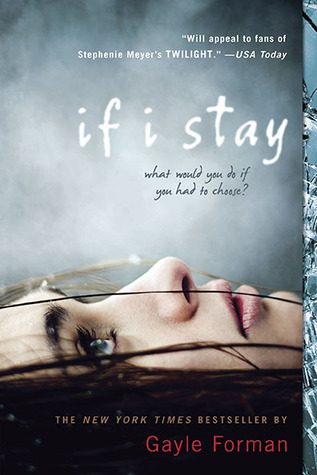 If I Stay
by Gayle Forman
1/2 of If I Stay
YA Contemporary
★★★ (3.37)
Goodreads
from my rating system: the events/characters/writing just bothered me. ranting side might be on. but still liked it enough.
Fine. It was just fine.
The plot intrigues me. I don't want to tell you the whole plot because it's better for you to read this book blindly. The only thing I can tell you is that it involves grief. A lot of it. More than I expected and maybe more than it should. Oh and doctors. And comas. Piece it together and you have the plot!
This book balances between the past and the present. Flashbacks were basically everywhere. And I appreciated that because if there wasn't then you would have an unhappy and bored reader. I got to see Mia's back story while simultaneously being in the real world.
You can say that this book is not fast-paced. And I would agree with you. You can't say "I couldn't put this book down." but you can say "I can put this down but it might require a little bit of effort." I don't know how the author did it but even though it's terribly slow, it managed to be intriguing at the same time.
After all of these compliments , I still want to give this book 3 stars.
Maybe because it's hyped up. Usually, – this would also apply to a lot of readers – if a book is hyped up and even non-readers start reading it, I tend to not like it. This doesn't apply to all hyped books but several of them.
But MAYBE it's because this book is full of musical terms. Being a non-musical person, I didn't understand them. If I can summarize this book, this series into one word it would be: music. Everything leads to music. The couple met by music. The accident happened while there was music. The guy is in a band. The girl plays the cello. Even the protagonist's family loves music. So what they all talked about was – you guessed it – music. It didn't ruin the book for me but maybe if I was more of a musical person – or this book would remember that not everyone adores music – I would like it better.
"In the operating room, the doctors are debating what music to play … the anesthesiologist … requests classical. I root for her, and I feel like that must help because someone pops on a Wagner CD, although I don't know that the rousing "Ride of the Valkyries" is what I had in mind. I hoped for something a little lighter. Four seasons, perhaps.
No idea what that means.
Or it is the characters. Characters play an important role. I usually rate a book low if the characters were annoying and horrid. I read this book months back and I don't remember them that much. But I do remember that I didn't really feel them as much as other people. I didn't get to connect and understand them. And for me, that's okay. It is the first book. You won't really care for the characters. So this might be the root of this rating.
But nonetheless, I still really enjoyed this. 
Oh, did I mention that I almost cried. No? Well, I almost cried.
What are your thoughts about this book? Do you like it?