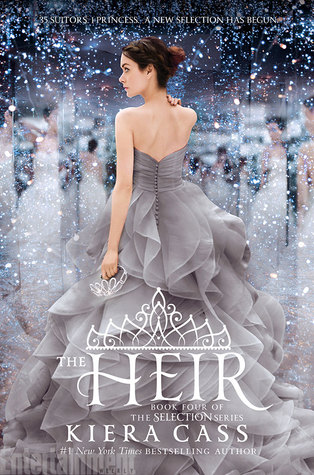 The Heir by Kiera Cass May 5th 2015 by HarperTeen
Synopsis: (GoodReads)
Twenty years ago, America Singer entered the Selection and won Prince Maxon's heart. Now the time has come for Princess Eadlyn to hold a Selection of her own. Eadlyn doesn't expect her Selection to be anything like her parents' fairy-tale love story. But as the competition begins, she may discover that finding her own happily ever after isn't as impossible as she always thought.
What I thought about the cover:
Pretty.

Yet another girl in the cover. 

Ooooh, glittery. 
What I thought about the book:
Oh no. Oh no. Oh freaking no. 

Why.

Why must there be another one.

It's not like I won't buy it. It is a part of a series that I need to finish. But why. Why add another one? What's the point?

Give me a break.
Okay, as you can see I am not happy that there's another book. Why? Because The One's ending was already satisfying. I didn't love love love that book but I did like it. (Though my review did not portray that.) Kiera, you do succeed in making my heart jump but now, you will only succeed making my heart irritated. 
The weird thing is that I will buy it. And I will regret it. 
Basically means it is also my fault.
Why me why.