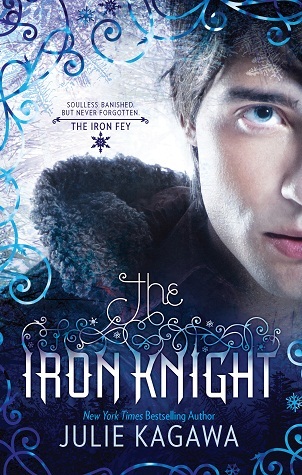 Book: Iron Knight by Julie Kagawa
Genre: YA Fantasy
Rating: ★★★★★
Recommend? YEEEEESS!
Series or Stand-alone? Series, #4/4 of Iron Fey
Cover Review: I STILL LOVE IT.
Favorite Line: "What good is it to sit here and do nothing? You help no one if you remain here and bemoan the past"
I'm terribly sorry but I have lost my ability to even. (That's just a fancy way of saying "I caan't)
This book made my heart break. And it fixed it again.
Actually, after I finished reading this, I did not read a whole book for 1 week. I remembered just sitting in my reading couch and missing the world. But mostly missing Puck. Did I mention that Puck is my number one book boyfriend? No? WELL HE IS AND I LOVE HIM SO MUCH. MORE THAN ASH ACTUALLY. OMG PUCK!
*cough* Sorry, let's get into the review.
REVIEW:
This series has 2 POV's. Iron King to Iron Queen is Meghan's POV and Iron Knight is Ash's. But the amazing thing is that I can tell this is Ash! And that is talent! In Allegiant (by Veronica Roth) there are 2 POV's but I did not know whether I was reading from Tris's or Four because there isn't any difference in the writing. The tone is still the same. In this book, it had a deeper and older feel, just like Ash! And in the other books, it had a happier feel, just like Meghan!
Also, may I comment on how stunning the writing is! It is detailed enough and the action scenes were written smoothly and descriptively, feeling like you're actually there instead of holding a bunch of pages.
The events were rarely confusing. The pacing was just right. No unnecessary characters and situations. Basically what I'm saying is that ohmygosh this book is so nice i'm just rambling how amazing it is so read it ok.
DISCUSSION:
Stop reading now unless you already finished this book. Plz.
Grim. Oh my, Grim is my spirit animal. I adored him. He was such a sassy and wise character that you can't help but love and strangle.
"Just because my species is vastly superior does not mean you should flaunt your idiocy so freely."
And WHO was expecting Ariella? Not me, nope, not me at all. At first, I thought she will just complicate this confusing love triangle. (And maybe answer it. Ariella and Puck, anyone?) But she actually helped Ash through his journey. And I applaud her for that. Living to help your lover find another is pretty hard.
Fast forward to the challenges. I did not know how much people Ash had hurt. And I got a little mad at him. But in the final challenge, he saw what would happen if he became human. And my heart went out to him, especially the time wherein Puck and Meghan danced. But it was sooooo unexpected, unforeseen, unanticipated, unpredicted, without warning whatsoever, so out of the blue that what had happened was. not. real.
And I burst into tears.
I closed the book and shouted "IT WASN'T REAL" a billion times, cried then continued reading. #qualitiesofabookreader
Did you even expect that all those things, the marriage, Kierran, Elysium, everything, was not real? Not me at all!
OVER ALL THOUGHTS:
Amazing. Julie Kagawa continues to surprise me (and make me cry) with her works.