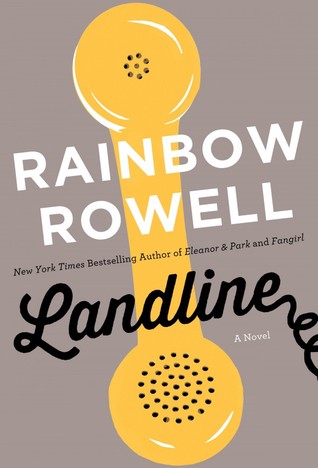 Book: Landline by Rainbow Rowell
Genre: Adult Contemporary, Magical Realism
Rating: ★★★★ (3.50)
Recommend? Yeah, I guess.
Series or Stand-alone? Stand-alone
Cover Review: Really nice! Good job.
Favorite Line: "Even if your heart is broken and attacking you, you're still not better off without it."
I might have a meh review because I lost my notes. Oh well!
(this review contains mild spoilers so beware)
Before anyone of you can say "How dare you give it 3.50 stars!" let me explain myself. Rainbow Rowell is one of my favorite authors and I read almost all of her works. BUT I didn't love love love this one in particular.
For me, the book was not going anywhere. Almost all of the book go :
Wake up.
Go to work.
Not pay any attention to work.
Focus on my phone only.
Friend asks if I'm fine.
I say "I'm okay."
Go home.
Relieve past memories.
Miss Neil.
Repeat.
But the weird part is that even if nothing is happening, you still can't stop reading! You still read on. You still utter "one more page". Rainbow Rowell is that good. I can probably read a book from her even if the whole book is focusing on how to put on socks.
But then it gets annoying. When is the interesting part going to happen? Everywhere I look I see Georgie crying over the past. Georgie bringing up painful (and happy) memories. Georgie crying. 
And oh my goodness Georgie. I really didn't like how much she depended on Neil. She keeps on missing him but she doesn't really do anything about it. She just stares at her phone, all day everyday, waiting for Neil to call her and even calling him herself (but it almost always goes straight to voicemail). Then the magic telephone thing appears and that's the part where things get interesting. But that part was probably almost half-way of the book.
OVER-ALL THOUGHTS:
But I admit, I really did like it. I gave it 4 stars for goodness sake! But my critical side decided to take over Odelia, so I didn't give it 5 stars.