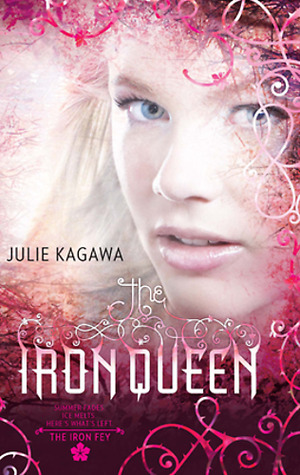 Book: Iron Queen by Julie Kagawa
Genre: YA Fantasy
Rating: ★★★★★
Recommend? YES PLEASE
Series or Stand-alone? Series, #3/4 of Iron Fey
Cover Review: THEY PULLED OFF THE FACE COVERS! I LOVE IT!
Favorite Line: "You mortals do not know what you have until it is gone."
Because I already read this book before, I'll just make a short review. And I am terribly sorry for not posting my reviews immediately. If you need more convincing, check out my Iron Knight review/discussion. (coming soon)
SHORT REVIEW:
The writing style is excellent. I love Julie's writing style. The style is amusing and everything is described with great detail.
Oh, how I adore the characters. It's true! You can't help but love Ash and Puck at the same time! You might get annoyed with Meghan but Ash and Puck will fill that gap.
The. Covers. Are. Great. Need I say more? I mean, THEY PULLED OFF THE ANNOYING FACE COVERS. I hate covers with people in it but surprisingly, they pulled it off. And I am very happy about that. (The spines are gorgeous too!)
The plot is so intriguing. I mean, come on. Fairies that are iron screams good plot to me. (If you don't read a lot of paranormal, basically fairies will burn and die when they touch iron.)
Hilarious. I laugh my butt off when I read these books. Enough said.
OVER ALL THOUGHTS:
I love this book with all my heart and please do consider reading this series. It's one of those not-that-hyped books that are really good.